Johnny's Meats - by Stephanie Hausle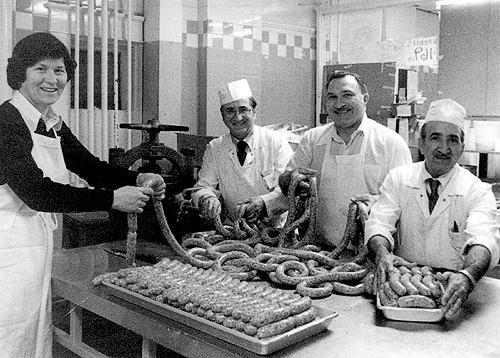 While Johnny Tiranno was perfecting his sausage recipe over the many years of running his butcher shop, his little stepson Mike was developing a taste for the meat business. At age 12 or 13, his responsibilities at the shop grew from the safety of cleaning to the greater dangers of perfecting his slicing talents. Today, Mike can be considered a "slice" off the old block, as he is now managing the business.
Johnny's Meats, located at 1191 Hertel Ave., has been in business since 1945 when at age 19 Johnny put the lessons he learned from his Uncle Sam, a butcher, to use. His first shop opened up on Busti Avenue and Virginia Street on the West Side, but moved to Hertel in 1960 when construction of the New York State Thruway forced him to relocate. "It turned out to be for the better as this area grew," commented Mike.
The business has changed a lot over the years, Mike said, recalling that when he was little there were many more butcher shops than there are today. The shop's biggest competition these days is the supermarket, where meat and deli products are usually priced a little higher than at Johnny's, he noted. Also, a supermarket's prepackaged meat will not have the high quality of that at a butcher, he added, and supermarkets simply do not have the space to hang beef to age a steak in order to make it more tender. Most of the meat at Johnny's comes from the mid-west, Mike explained. "Johnny used to be able to go right to the slaughter houses around here and pick out what he wanted to buy." That's where all the men in the trade used to meet and associate with one another, an association which no longer exists, according to Mike.
Aside from changes in the profession itself, Johnny's has undergone a few changes of its own. Mike's mother Iside ("Izzy," the name she assured everyone would recognize her by) has used her expertise in the kitchen to sell more prepared foods than ever before. "Today the consumer wants their food all ready for them," Mike explained. "There are a lot of working consumers out there, who just don't have the time to do it themselves." On Friday morning, lzzy was hard at work, fast to prepare a whole lot of her twice baked potatoes covered in cheese and bacon bits, which are sold individually at the shop. She also makes pasta from scratch daily and uses it for her lasagna, stuffed shells and soup dishes which are also regularly available. "Our customers compliment her stuff all the time," said Mike. "Some swear by it – it's practically all they eat."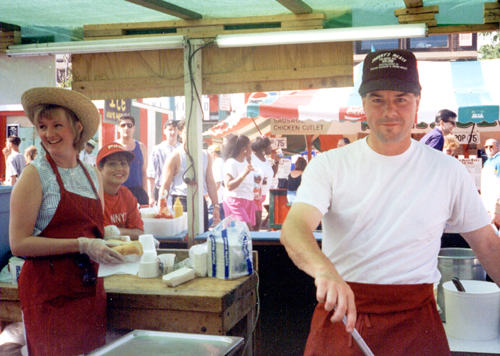 Other prepared foods at the shop include chicken cutlets and fried fish, which Izzy makes once a week. Other frozen items available include cooked meatballs, cooked tripe, eggplant parmesan, roast beef in gravy, sausage cacciatore, ravioli, stuffed peppers, etc. Often people call ahead to place orders for parties, Izzy explained. Her lasagna is a popular item which is sold by the pound. The number at Johnny's Meats is 876-2500, and its hours are from 8 am to 5:30 pm Monday through Friday and from 7 am to 5 pm Saturday.
Of course, it is the Italian sausage, a big summer seller, which gave the business its start. Johnny's sausage and tripe is a favorite at the annual Italian Festival. The shop also carries a full line of beef, veal, lamb, pork, and fresh chicken, as well as a full line of deli products, including all kinds of cheeses, pepperoni, and hotdogs. The shop stocks its shelves full of packaged, imported Italian items as well.
Some long-time residents from the immediate area come in saying they never even knew the shop existed. New customers often are surprised by the low prices. Mike said there is a big misconception out there that because they are a specialty shop, their prices are outrageous. In addition to their already low prices, Johnny's Meats runs weekly specials.
Already it is evident that the concept of a neighborhood butcher shop is unfamiliar to youngsters. Recently, Mike said, a little boy was in the shop with his mother and Mike handed him a slice of bologna. Reminding .the little tyke of his manners, the mother said to her son, "What do you say?" To that he turned to Mike and asked, "How much?"
Here's to another 50 years in business!